Product Description
The rugged OHAUS spring scales are constructed of shatterproof plastic and metal and arête economical choice for general weighing, force experiments, action-reaction demonstrations, and much more!
Applications
Weighing
Display
Dial plates
Operation
N/A
Communication
N/A
Construction
ABS housing with metal face plate, pointer, spring and hook
Design
Large bright colored dial face, easy-to-read black graduations on a frosted aluminum background
Pull type spring scales feature an internal spring mechanism and offer a versatile and inexpensive way to display measurements in grams, ounces, pounds and Newton's.

Dial type spring scales offer a versatile and inexpensive weight determination in classrooms, laboratories, field studies and much more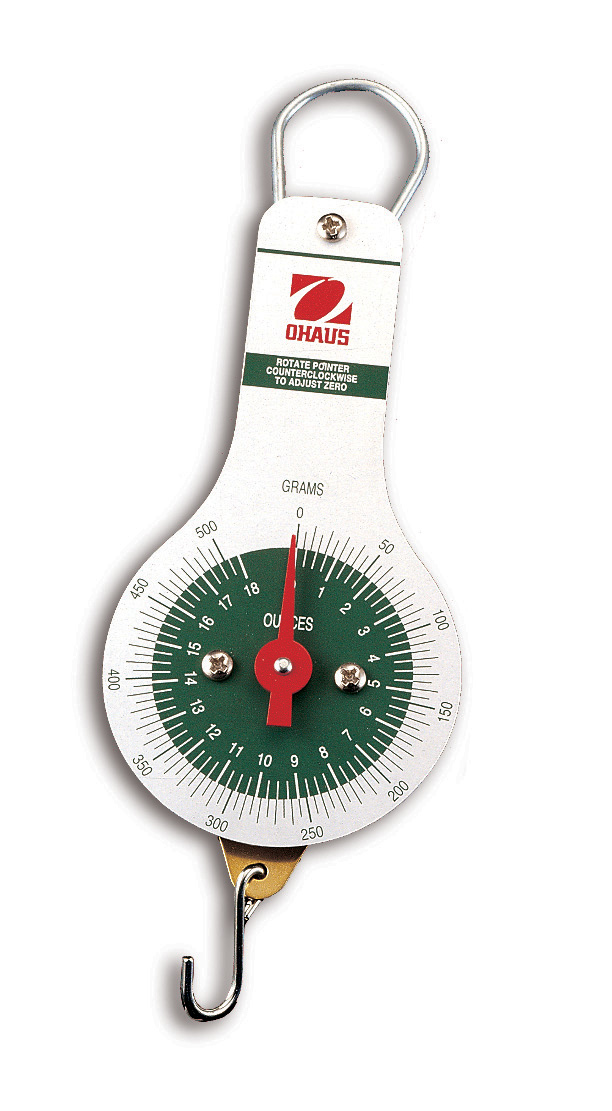 Demonstration spring scales offer a large faceplate for easy viewing and are ideal for all basic weighing applications.

|   | Models | Maximum Capacity | Readability | Dimensions (HxLxW) / Dimensions (2) |
| --- | --- | --- | --- | --- |
| | 8001-MA | 9 oz (250 g) | 0.25 oz (10 g) | 0.9 in x 7.59 in x 1.81 in (23 mm x 193 mm x 46 mm) |
| | 8002-MA | 18 oz (500 g) | 0.5 oz (20 g) | 0.9 in x 7.59 in x 1.81 in (23 mm x 193 mm x 46 mm) |
| | 8004-MA | 72 oz (2,000 g) | 2 oz (50 g) | 0.9 in x 7.59 in x 1.81 in (23 mm x 193 mm x 46 mm) |
| | 8001-MN | 250 g | 10 g | 0.9 in x 7.59 in x 1.81 in (23 mm x 193 mm x 46 mm) |
| | 8002-MN | 500 g | 20 g | 0.9 in x 7.59 in x 1.81 in (23 mm x 193 mm x 46 mm) |
| | 8003-MN | 1,000 g | 25 g | 0.9 in x 7.59 in x 1.81 in (23 mm x 193 mm x 46 mm) |
| | 8004-MN | 2,000 g | 50 g | 0.9 in x 7.59 in x 1.81 in (23 mm x 193 mm x 46 mm) |
| | 8008-MN | 5,000 g | 100 g | 0.9 in x 7.59 in x 1.81 in (23 mm x 193 mm x 46 mm) |
| | 8261-M0 | 100 g | 1 g | 0.9 in x 7.59 in x 1.81 in (23 mm x 193 mm x 46 mm) |
| | 8262-M0 | 200 g | 2 g | 0.9 in x 7.59 in x 1.81 in (23 mm x 193 mm x 46 mm) |
| | 8263-M0 | 500 g | 5 g | 0.9 in x 7.59 in x 1.81 in (23 mm x 193 mm x 46 mm) |
| | 8264-M0 | 1,000 g | 10 g | 0.9 in x 7.59 in x 1.81 in (23 mm x 193 mm x 46 mm) |
| | 8265-M0 | 2,000 g | 20 g | 0.9 in x 7.59 in x 1.81 in (23 mm x 193 mm x 46 mm) |
| | 8001-PN |   |   | 0.9 in x 7.59 in x 1.81 in (23 mm x 193 mm x 46 mm) |
| | 8002-PN |   |   | 0.9 in x 7.59 in x 1.81 in (23 mm x 193 mm x 46 mm) |
| | 8003-PN |   |   | 0.9 in x 7.59 in x 1.81 in (23 mm x 193 mm x 46 mm) |
| | 8004-PN |   |   | 0.9 in x 7.59 in x 1.81 in (23 mm x 193 mm x 46 mm) |
| | 8008-PN |   |   | 0.9 in x 7.59 in x 1.81 in (23 mm x 193 mm x 46 mm) |
| | 8011-MA | 9 oz (250 g) | 0.125 oz (2 g) | 1 in x 7.2 in x 3.14 in (25 mm x 183 mm x 80 mm) |
| | 8012-MA | 18 oz (500 g) | 0.25 oz (5 g) | 1 in x 7.2 in x 3.14 in (25 mm x 183 mm x 80 mm) |
| | 8014-MA | 72 oz (2,000 g) | 0.5 oz (10 g) | 1 in x 7.2 in x 3.14 in (25 mm x 183 mm x 80 mm) |
| | 8011-MN | 250 g | 2 g | 1 in x 7.2 in x 3.14 in (25 mm x 183 mm x 80 mm) |
| | 8012-MN | 500 g | 5 g | 1 in x 7.2 in x 3.14 in (25 mm x 183 mm x 80 mm) |
| | 8013-MN | 1,000 g | 10 g | 1 in x 7.2 in x 3.14 in (25 mm x 183 mm x 80 mm) |
| | 8014-MN | 2,000 g | 10 g | 1 in x 7.2 in x 3.14 in (25 mm x 183 mm x 80 mm) |
| | 8016-00 | 2,000 g | 20 g | 1 in x 7.2 in x 3.14 in (25 mm x 183 mm x 80 mm) |
| | 8015-00 | 2,000 g | 50 g | 1 in x 7.2 in x 3.14 in (25 mm x 183 mm x 80 mm) |
| | 8018-50 | 5,000 g | 200 g | 1 in x 7.2 in x 3.14 in (25 mm x 183 mm x 80 mm) |